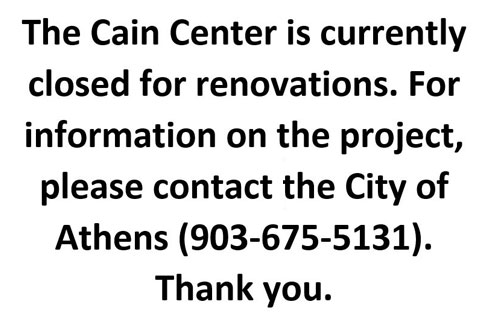 Book Now!
Upcoming Events
Nov. 5th, 2016 - Annual Coat & Garage Sale
Time: 8am - 1pm
Give us a call to reserve a booth!
Nov. 24th, 2016 - 19th Annual Turkey Trot!!
Date: Thanksgiving Day on November 24th, 2016
Race start at 8am
Register now at Active.com
Check back for more information as race datails updated!
Check out how much fun we had at Turkey Trot 2014 & Turkey Trot 2015!!
Annual Events
Learn about annual events held at the Cain Center in Athens, Texas including the Glow Run, Turkey Trot, & more...

Get a membership today!
The benefits of Health Center Membership include 7 day access to the gym, free weights room, pool, hot tub, sauna & more!

Why Sponsor Us?
Sponsoring us helps increase local awareness of your company, family or foundation, improve your name recognition and goodwill.

Cain Center Life